In-House Counsel Lawyer Job in Toronto, Canada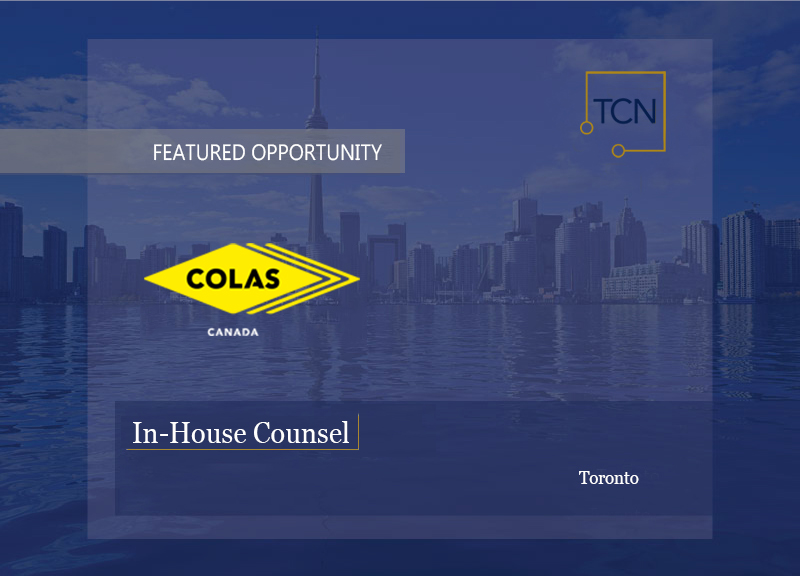 **This opportunity is now closed. Please visit our job board to view our current opportunities.**
Colas Canada Inc., Canada's leader in construction and maintenance of transportation infrastructure, is a holding and management company with operating companies across Canada. Colas Canada is a subsidiary of the Colas Group, a publicly-listed company headquartered in France and a worldwide leader in transport infrastructure construction and maintenance. Backed by a workforce of 58,000 people, Colas Group undertakes about 85,000 projects every year via a network of 800 construction units and 2,000 material production continents.
Job Description – Bilingual In-House Counsel Lawyer
Colas Canada has an immediate opening for a bilingual In-House Counsel Lawyer to join its team in Toronto. The In-House Counsel will be responsible for providing legal support to the company's subsidiaries operating across Canada.
Offering a competitive compensation package, this is an excellent opportunity for a talented business-oriented lawyer to join a preeminent, international company offering a collaborative work environment and work-life balance.
Key Accountabilities and Responsibilities
Support the General Counsel with the review and preparation of commercial agreements, real estate transactions, and corporate documentation.

Conduct legal analysis on different topics as required in order to ascertain and further strategy.

Review and update templates of commercial agreements to ensure consistency.

Handle real estate transactions documentation, including drafting, due diligence support, and negotiation up to closing.

Review and advice on the negotiation of commercial agreements.

Thorough risk assessment including compliance analysis.

Provide support with reporting as required.

National traveling to be expected as well as occasional international traveling.
Education and Professional Skills/Knowledge
LL.B. or J.D. degree (or equivalent).

Good standing with a Canadian Law Society.

2-4 years of real estate and corporate commercial law experience. 

Strong legal research and analytical skills. 

Interest and dedication to understanding the business. 

Practical and commercially minded approach to complex matters. 

Success in this position requires flexibility, curiosity, thoroughness, and a team-oriented mindset. 

Fluency in French is required.
This is an exclusive search.
For more information or to apply for this position, contact:
Chaaya R. Jugdeb, Recruitment Associate
403.444.1767
Visit our job board to view all of our current opportunities.