In-House Legal Counsel Job in Burnaby, Canada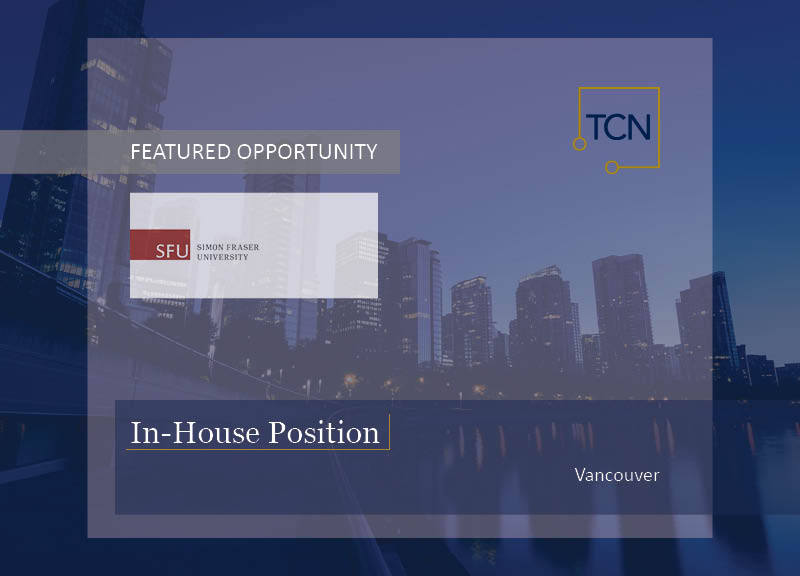 **This opportunity is now closed. Please visit our job board to view our current opportunities.**
Simon Fraser University (SFU) is Canada's most community-engaged research university. Recognized among Canada's leading comprehensive universities, SFU is defined by its dynamic integration of innovative education, cutting-edge research, and far-reaching community engagement. With thriving campuses in Vancouver, Burnaby and Surrey, SFU has eight faculties, delivers almost 150 programs to over 35,000 students, and boasts more than 155,000 alumni in 143 countries around the world.
Job Description – In-House Legal Counsel
SFU has an immediate opening for an In-House Legal Counsel to join its Office of the General Counsel. Reporting directly to the General Counsel, the Legal Counsel will be responsible for providing legal and strategic advice to university administration, as well as providing support to the General Counsel. This position will be based out of SFU's Burnaby campus.
This is an excellent opportunity for a talented corporate commercial solicitor seeking a dynamic role with a highly successful and thriving organization offering work-life balance, a competitive compensation and benefits package, and meaningful work.
Key Accountabilities and Responsibilities
Work directly with academic and administrative units, primarily undertaking solicitor's work with a focus on negotiating, preparing, and/or reviewing contracts.
Create and manage templates and legal resources to ensure consistency in external dealings and compatibility with SFU's policies and objectives.
Provide legal advice across a wide range of areas, including IP, general corporate commercial and liability, labour and employment, human rights, privacy, governance, and university policies.
Recommend practices and procedures to protect SFU from undue liability.
Advise on SFU governance and policies.
Provide training, seminars or education-oriented initiatives, as required.
Participate in special initiatives and sensitive projects on an as-needed basis.
Provide work direction, guidance and mentorship to staff.
Education and Professional Skills/Knowledge
LL.B. or J.D. degree (or equivalent).
Good standing with a Canadian Law Society.
5+ of general corporate commercial experience at a top-tier firm or company.
Strong business acumen and sound judgement with a focus on practical client advice relating to legal risks within a business context.
Knowledge of the laws of British Columbia and the laws of Canada applicable therein, with specific emphasis on the BC University Act, the BC Financial Administration Act, the BC Freedom of Information and Protection of Privacy Act, corporate, commercial, and contract law, and international/national patent and copyright laws.
Ability to manage a large, complex, and diverse legal caseload.
High level of tact, professionalism, and diplomacy.
Excellent interpersonal, communication, organizational, analytical, and problem-solving skills.
This is an exclusive search.
For more information or to apply for this position, contact:
Chaaya R. Jugdeb, Recruitment Associate
403.444.1767