Legal Counsel, Corporate Finance (Senior) Job in Calgary, Canada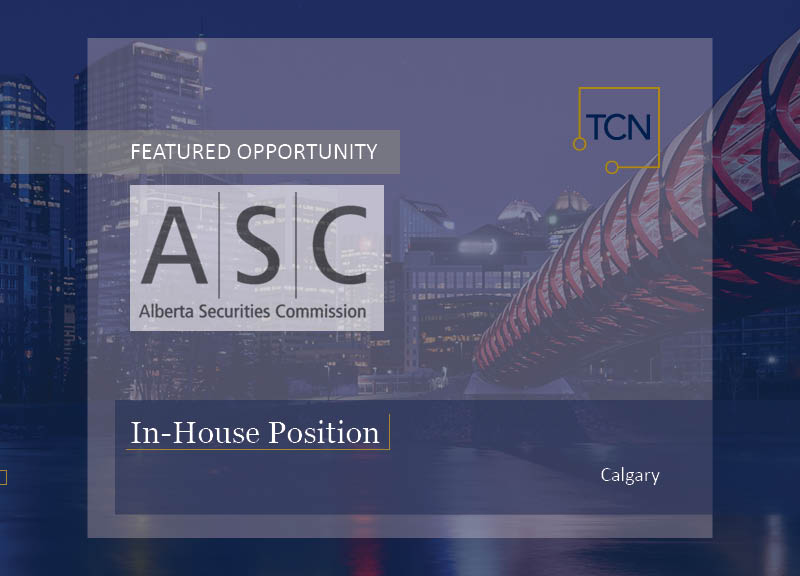 **This opportunity is now closed. Please visit our job board to view our current opportunities.**   
The Alberta Securities Commission (ASC) is the industry-funded regulator responsible for administering the province's securities laws. It is entrusted with fostering a fair and efficient capital market in Alberta and with protecting investors. As a member of the Canadian Securities Administrators (CSA), the ASC works to improve, coordinate and harmonize the regulation of Canada's capital markets.
The Corporate Finance division is the ASC's principal interface with Alberta's public companies and investment funds. The division regulates companies' communications to the public through offering documents and continuous disclosure; oversees contested M&A transactions; considers and grants applications for exemptive relief from securities laws; and plays an active role in the development of appropriate local and national rules and policies relating to issuers and insiders used in the regulation of the capital markets in Alberta and Canada.
Job Description – Legal Counsel, Corporate Finance (Senior)
The ASC has an immediate opening for a Senior Legal Counsel to join its Corporate Finance team in Calgary. Reporting to the Manager, Legal, Corporate Finance, the Senior Legal Counsel position offers a great opportunity to not only broaden one's exposure to securities and administrative law, but to apply critical reasoning, influence the development of securities regulatory policy and make a positive contribution to the vibrancy and integrity of Alberta's capital market.
This is an excellent opportunity for a talented mid to senior-level securities lawyer seeking to join a leading organization offering work-life balance and a professional and collaborative culture.
Key Accountabilities and Responsibilities
Review applications by issuers for exemptive relief from securities law requirements.
Work on policy projects with colleagues in other CSA jurisdictions to develop, draft and coordinate the adoption of harmonized securities rules and policies, while representing and effectively advocating for the interests of Alberta's capital markets.
Make oral and written submissions to ASC decision makers with respect to exemptive relief applications, policy projects and contested M&A transactions.
Review prospectuses, take-over bid circulars, proxy circulars and other disclosure documents.
Considering and making recommendations in respect of proposed amendments to the corporate finance policies of the TSX Venture Exchange.
Providing legal advice to ASC staff, executive management and members of the Commission in connection with prospectus offerings, contested M&A transactions and proxy contests, and issuer and insider compliance with securities laws.
Education and Professional Skills/Knowledge
LL.B. or J.D. degree (or equivalent).
Good standing with a Canadian Law Society.
8+ years of business law experience at a mid-sized/large law firm or in-house environment.
Significant securities law experience, including public and private financings, M&A transactions, and continuous disclosure.
An interest in contributing to the success of Alberta's public and private capital markets.
Strong oral and written advocacy skills, and the ability to communicate effectively with members of the general public, market participants and professional advisors.
Attention to detail and a high degree of accuracy.
Excellent tact and diplomacy, and the ability to work productively with staff in other CSA jurisdictions.
Ability to work both independently and as part of a collaborative team, engaging cooperatively with others in an interdisciplinary manner.
Strong analytical decision-making and problem-solving skills.
This is an exclusive search.
For more information or to apply for this position, contact:
Jeremiah Hunter, Recruitment Associate
403.444.1765
Visit our job board to view all of our current opportunities.