In-House Legal Counsel Lawyer Job In Vancouver, Canada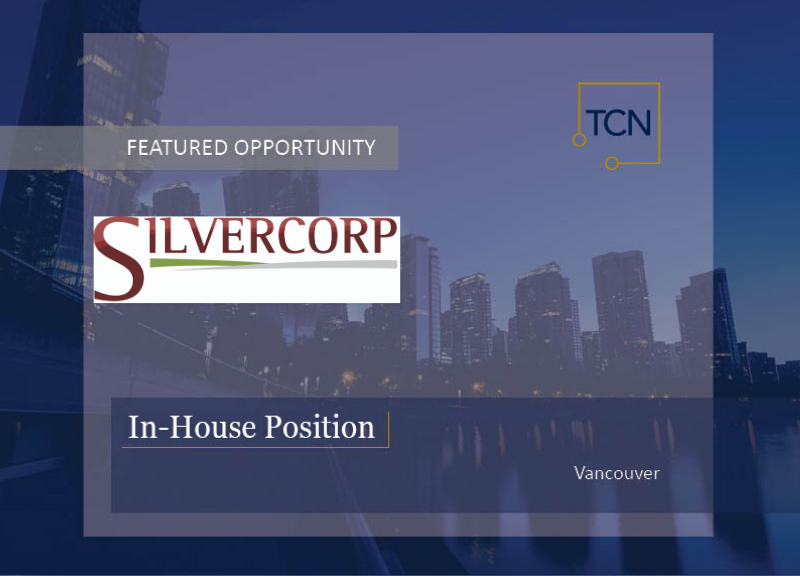 **This opportunity is now closed. Please visit our job board to view our current opportunities.**
Silvercorp Metals Inc. (TSX/NYSE American: SVM) is a profitable Canadian mining company producing silver, lead and zinc metals from mines in China. The Company's goal is to continuously create healthy returns to shareholders through efficient management, organic growth and the acquisition of profitable projects. Silvercorp balances profitability, social and environmental relationships, employees' wellbeing, and sustainable development.
Job Description – In-House Legal Counsel
Our client, Silvercorp Metals, has an immediate opening for a Corporate Counsel lawyer to be based out of their office in Vancouver, BC. Reporting directly into and working closely with the General Counsel, the Corporate Counsel will be responsible for delivering high quality legal advice and the preparation and review of legal documents and contracts. Effective communication, self-motivation and the ability to work within an entrepreneurial team environment are essential attributes required.
Offering a competitive compensation and bonus package, this is an excellent opportunity for an innovative and talented lawyer to join a global mining company in a dynamic and growing industry.
Key Accountabilities and Responsibilities
Provide timely, proactive and solution-oriented legal advice on a wide range of 

corporate, commercial, securities and other matters to all business units, the executive team, and the board

Negotiate, draft, review and provide legal advice in relation to a wide range of agreements

Assist with the preparation and review of public disclosure materials including financial 

statements, MD&A, annual information forms, and news releases as required

Keep abreast of changes in applicable securities laws and regulatory requirements

Ensure compliance with all regulatory matters and in particular securities law 

compliance

Manage transactions including M&A and financings (i.e., negotiating and drafting legal 

documents and contracts, attending to due diligence)

Work closely with the corporate development team on potential transactions, conduct 

legal research to provide recommendations and contribute to risk analysis

Prepare and support board and committee meetings

Oversee preparation and maintenance of corporate documents, filings and registrations 

and the corporate records books

Manage the corporate governance policies and procedures

Coordinate and liaise with external counsel
Education and Professional Skills/Knowledge
LL.B. or J.D. degree (or equivalent).

Good standing with a Canadian Law Society.

3-5 years of experience at a top-tier law firm or in-house at a reputable company

Extensive knowledge of securities laws and transactional laws

Ability to work on a broad range of legal topics and adapt to changing priorities
This is an exclusive search.
For more information or to apply for this position, contact: 
Chaaya R. Jugdeb, Recruitment Associate 
Or:
Warren Smith LL.B., Managing Partner
Visit our job board to view all of our current opportunities.