In-House Litigation Counsel Lawyer Job in Vancouver, Canada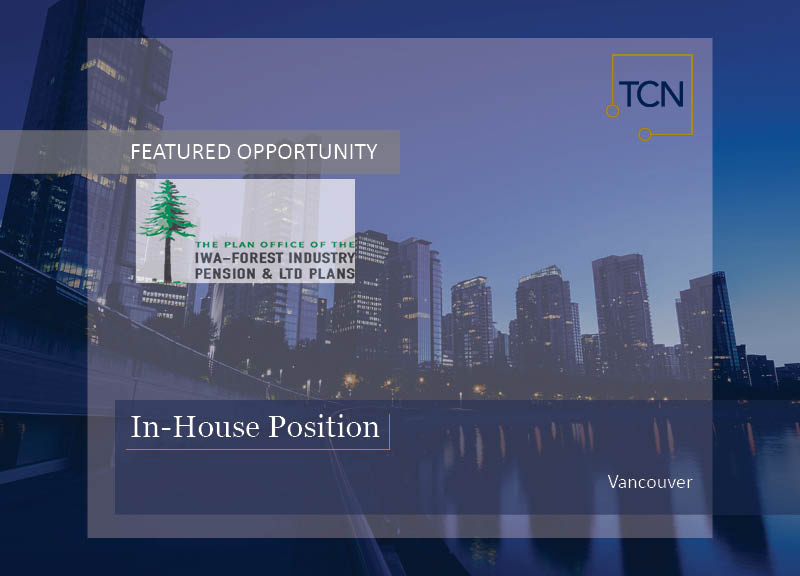 **This opportunity is now closed. Please visit our job board to view our current opportunities.**
Established to support Canadian forestry workers and their families, the IWA–Forest Industry Pension and LTD Plans provide pension and disability benefits and rehabilitation services to members. With over $4.0B in assets, over 400 participating employers, and 70,000 members, the IWA is one of Canada's top 100 pension funds, and one of the top three private pension funds in BC.
Job Description – In-House Litigation Counsel Lawyer
IWA has an immediate opening for a Litigation Counsel to join its team in Vancouver. As part of the Management Team and reporting to the General Counsel, the Litigation Counsel will be primarily responsible for litigation on behalf of the pension and LTD plans at all levels of court and the Civil Resolution Tribunal.
This is a unique opportunity for a talented litigator seeking a work-life balance, while also maintaining a diverse and challenging practice. IWA offers competitive benefits, employer-funded defined contribution pension, generous holidays, and a close-knit work culture.
Key Accountabilities and Responsibilities
Conduct all aspects of litigation for the plans, including commencement of claims, interlocutory matters, settlement negotiations, conduct of trials and appeals, and enforcement of judgements.
Prepare Board materials pertaining to litigation activities and present to the Boards of Trustees as required.
Assist General Counsel in areas of plan administration on pension, LTD and general corporate matters, including employment and labour relations.
Education and Professional Skills/Knowledge
LL.B. or J.D. degree (or equivalent).
Good standing with a Canadian Law Society.
3-8 years of litigation experience, preferably with knowledge of collections and/or personal injury law.
Strong advocacy, management, and leadership skills; excellent judgment and analytical skills; and the ability to develop practical and sound legal strategies and objectives.
Persuasiveness and persistency balanced with diplomacy.
Familiarity with privacy, labour relations, and/or employment law would be considered an asset.
This is an exclusive search.
For more information or to apply for this position, contact:
Warren Smith, Managing Partner
604.643.1711
wsmith@thecounselnetwork.com
Visit our job board to view all of our current opportunities.