In-House Membership Counsel Job in Calgary, Canada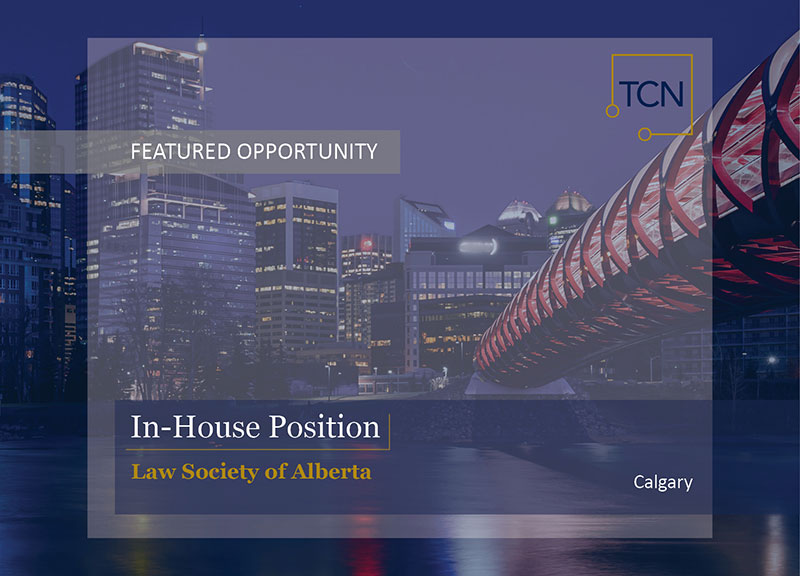 **This opportunity is now closed. Please visit our job board to view our current opportunities.**
The Law Society of Alberta is the self-governing body for Alberta's lawyers with a mandate to regulate the profession in the public interest. As a regulator, the Law Society sets standards and enforces those standards for Alberta lawyers.
Job Description – In-House Membership Counsel
The Law Society is seeking an In-House Membership Counsel to join its Membership department, which oversees the administration of applications for membership, status changes, transfer of inter-jurisdictional members, and Professional Corporations and Limited Liability Partnerships. The department also manages the admission program for students-at-law and provides customer service to internal and external customers.
As a key member of the Membership department, the Membership Counsel will review and analyze applications and draft written reasons, as required, and provide day-to-day legal analysis and problem-solving support to all department staff.
Key Accountabilities and Responsibilities
Make decisions regarding student-at-law applications, principal suitability and eligibility, foreign qualified lawyers, enrolment, inter-jurisdictional transfers, status changes, foreign legal consultants, professional corporation permits, and licensing of limited liability partnerships.
Apply legal analysis and judgement to evaluate the sufficiency of applications as they relate to the Law Society Act, the Rules of the Law Society, or the Code of Conduct, and drafting written reasons, as required.
Engage in risk analysis throughout oversight of applications and when increased risk is detected, notify the appropriate level of senior management to ensure a coordinated Law Society response, including directing an investigation, requesting counsel, or making a referral to other departments for additional support.
Act as a key staff representative to the Credentials & Education Committee and participate as a staff representative to hearing panels of the Committee.
Education and Professional Skills/Knowledge
LL.B. or J.D. degree (or equivalent).
Good standing with a Canadian Law Society.
Minimum of 7 years of experience at the bar with significant client exposure in broad areas of law.
Demonstrated knowledge of the regulatory requirements to become a member of the Law Society, the ability to work in a Committee environment, and familiarity with administrative law principles and adjudicative process before hearing panels.
Exceptional communication, time management, sound ethical judgment and analytical skills, ability to work effectively as part of a dynamic team, and a strong customer service focus.
This is an exclusive search
For more information or to apply for this position, contact:
Sameera Sereda, Managing Partner
403.444.1763