Legal Counsel Job in Victoria, Canada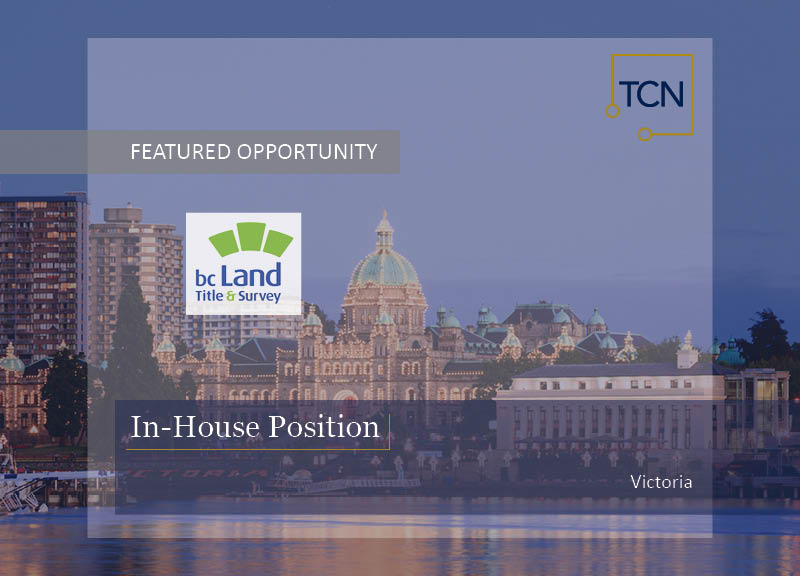 **This opportunity is now closed. Please visit our job board to view our current opportunities.**
The Land Title and Survey Authority of British Columbia (LTSA) operates and administers BC's land title and survey systems. These systems provide the foundation for all real property business and ownership in the province, and directly support property assessment, taxation and civil justice matters. The LTSA is a statutory, not-for-profit corporation funded directly through customer service fees and is led by an 11-member board self-selected from stakeholder nominations.
Job Description – In-House Legal Counsel
LTSA is seeking a Legal Counsel to join its Policy and Legal Services Division, which sets the organization's policy agenda and is accountable for the creation, evaluation, and continual updating of regulatory and policy frameworks and documents that guide the way the business operates. Reporting to the Senior Legal Counsel and Privacy Officer, the Legal Counsel will support LTSA by providing legal advice relating to real property and land title registration, administrative, privacy, corporate/regulatory, and contracts.
This is an exceptional opportunity for a talented lawyer seeking a dynamic legal and business role in a progressive and technologically advanced environment. Offering an attractive compensation package, including a pension and benefits, this is a rare opportunity to work with a leading organization in land administration that is globally respected. LTSA was recently recognized as one of BC's Top Employers (2019).
Key Accountabilities and Responsibilities
Advise staff on questions of law and provide legal analysis based on established jurisprudence and legislation across a range of legal areas, including real property and land title registration, administrative, privacy, corporate/regulatory, and contracts.
Communicate and negotiate with external parties (i.e. regulators, external counsel, public bodies).
Draft commercial agreements, contracts, and other legal documents.
Review and research provincial legislation, regulations, case law, and best practices to recommend corporate approaches to LTSA's statutory services.
Provide legal advice related to the operation and management of the land title and survey systems in BC.
Conduct necessary legal research to facilitate resolution of land title and land survey issues raised by complex or contested applications.
Investigate and advice on the resolution of Land Title Act Assurance Fund claims.
Contribute to and define strategies for the introduction of business changes and technological advances.
Education and Professional Skills/Knowledge
LL.B. or J.D. degree (or equivalent).
Good standing with a Canadian Law Society.
5+ years of experience in corporate commercial and real property law.
Sound working knowledge of relevant statute and common law pertaining to BC's land title system, including the Land Title Act, Stata Property Act, Property Law Act, Land Act, Wills, Estates and Succession Act, Family Law Act, and Law and Equity.
Exemplary communication and interpersonal skills.
Ability to adapt to a complex and changing environment.
Strong business acumen and decisive insight.
Administrative law and/or privacy law experience would be considered an asset.
This is an exclusive search
For more information or to apply for this position, contact:
Chaaya R. Jugdeb, Recruitment Associate
403.444.1767
**This opportunity is now closed. Please visit our job board to view our current opportunities.**