Plaintiff Personal Injury Associate Lawyer Job in Vancouver, Canada (4-7 years)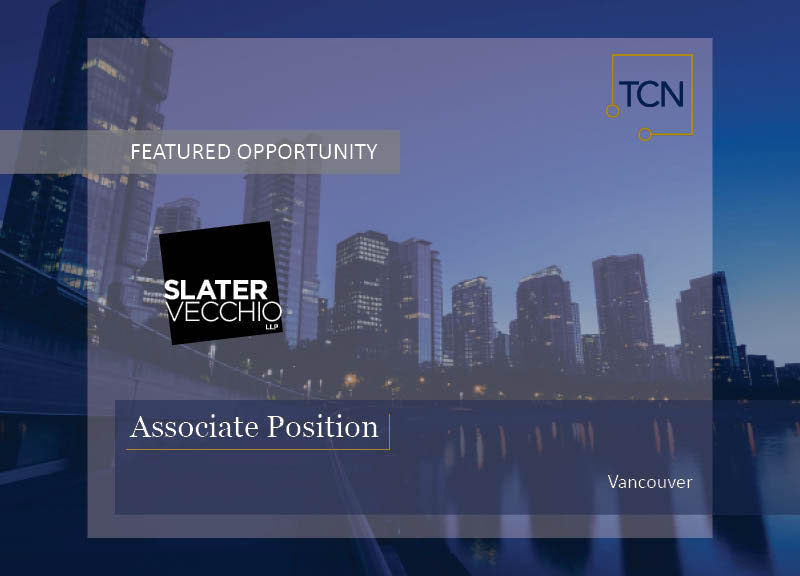 **This opportunity is now closed. Please visit our job board to view our current opportunities.**
Slater Vecchio LLP is a highly respected plaintiff personal injury law firm located in downtown Vancouver.
Since 1998, Slater Vecchio has represented thousands of people who have been injured in car accidents or hazardous environments and guided them through the complexities of law on their path to recovery. The firm's clients have been awarded some of the highest trial awards in traumatic brain injury, spinal cord injury, and other personal injury cases, including damage awards of over $7 million.
Slater Vecchio takes pride in its work and its reputation for stellar performance and great client service. Offering a collaborative culture, the firm features high-performing, compassionate, and service-oriented individuals seeking to make a difference in their clients' lives.
Due to continued growth, Slater Vecchio is looking to add a plaintiff-side personal injury associate lawyer to its team. As the ideal candidate, you will have four to seven years of top-tier plaintiff or defense-side injury law experience. You must have exceptional advocacy skills, strong work ethic and practice standards, and a passion for the law in service of injured clients.
Offering access to top-quality files and competitive compensation, this is an excellent opportunity for a skilled and motivated personal injury lawyer to work with one of the most respected injury law firms in Vancouver.
This is an exclusive search
For more information or to apply for this position, contact:
Jeremiah Hunter, Recruitment Associate
403.444.1765
Visit our job board to view all of our current opportunities.