Senior Legal Counsel, Employee & Labour Relations Lawyer in Toronto, Canada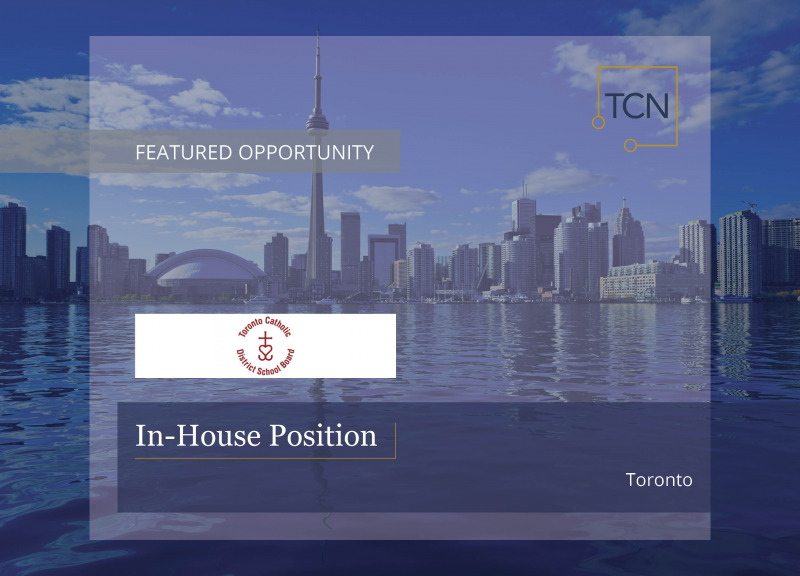 **This opportunity has been filled and is now closed. Please visit our job board to view our current opportunities.**
The Toronto Catholic District School Board (TCDSB) is one of the largest school boards in Canada and the largest Catholic school board in the world. The TCDSB serves over eighty-thousand students in more than 170 elementary schools and 30 secondary schools throughout Toronto and has an annual operating budget of approximately $1.2 billion.
TCDSB's Catholic education system produces high levels of student achievement and enables students to fulfill Ontario's Catholic Graduate Expectations. Further, graduates are taught the virtues and values of the Catholic faith including community, responsibility, accountability, collaboration, caring and family.
The TCDSB is committed to fairly and objectively recruiting and selecting leaders and staff who are excellent role models, innovative, and committed to diversity, inclusion, and equity.
This is an excellent opportunity for an experienced lawyer to join an established, highly regarded organization committed to the well-being of its staff, students, and the community it serves.
Job Description – Senior Legal Counsel, Employee & Labour Relations Lawyer
TCDSB is seeking to add a Senior Legal Counsel, Employee & Labour Relations Lawyer to its team in Toronto. Reporting to and under the direction of the Executive General Counsel, the Senior Legal Counsel will provide legal advice and services on a broad range of labour relations matters.
As the ideal candidate, you will have a minimum of four years of labour law experience. The ability to work in a fast-paced and rapidly changing environment with proven experience in responding to union grievances and arbitrations is required.
Key Accountabilities and Responsibilities
Provide legal advice and counsel to front-line management (including Superintendents, Principals, Vice-Principals, Business Leaders and Human Resources professionals, among others) on the interpretation of collective agreements and applicable legislation.
Provide direction and guidance to designated legal support staff.
Oversee and present the Board's position on grievances by preparing responses, advancing settlement discussions, and coordinating the implementation of resolutions.
Represent the Board at labour arbitrations, the Ontario Human Rights Tribunal, and other administrative tribunals or other legal proceedings.
Oversee investigations into workplace incidents, including but not limited to allegations of discrimination, workplace harassment, workplace violence and employee misconduct.
Advise on disciplinary matters and implement discipline as appropriate.
Provide appropriate professional learning in-services and consultation to staff on legal matters within the Employee and Labour Relations portfolio.
Participate in and support the development of negotiation strategies and bargaining activities.
Research and prepare legal opinions on Employee and Labour Relations matters.
Draft reports and provide advice at Board and Standing Committee meetings.
Remain current and advise staff on developments of relevant legal updates and issues.
Adhere to the highest standards of professional and ethical conduct.
Education and Professional Skills/Knowledge
B. or J.D. degree (or equivalent).
Good standing with a Canadian Law Society.
Minimum of 4 years related experience in labour law, including collective bargaining.
Ability to work in a fast paced and rapidly changing environment.
Proven experience in responding to union grievances and arbitrations.
Ability to analyze legal risk in context of business realities.
Experience with management-side labour law in the public sector is considered an asset.
Exceptional communication and interpersonal skills.
Ability to work independently while being an effective member of a team.
Consistent with the TCDSB's Employment Equity policy and Multi-Year Strategic Plan, the TCDSB is strongly committed to fostering and creating a diverse and inclusive workplace that reflects the stakeholders and communities we serve. As such, we welcome and encourage applications from candidates who self-identify as visible minorities, persons with disabilities, aboriginal peoples, and women. You are invited to voluntarily indicate if you identify as one or more of the aforementioned communities.  This information will be kept confidential.
This is an exclusive search.
The Counsel Network is committed to building a diverse legal community through our inclusive business and recruitment practices. We value diversity of experience, expertise, and background, and strive to eliminate barriers historically encountered by marginalized groups. We recognize that an equitable, diverse, and inclusive workforce benefits and enriches both the legal profession and the greater community.
For more information or to apply for this position, contact:
Meaghan Loughry, Recruitment Associate 
mloughry@thecounselnetwork.com
647.417.4720
OR
Sameera Sereda, Managing Partner
Visit our job board to view all of our current opportunities.