Staff Lawyer Job in Richmond, BC Canada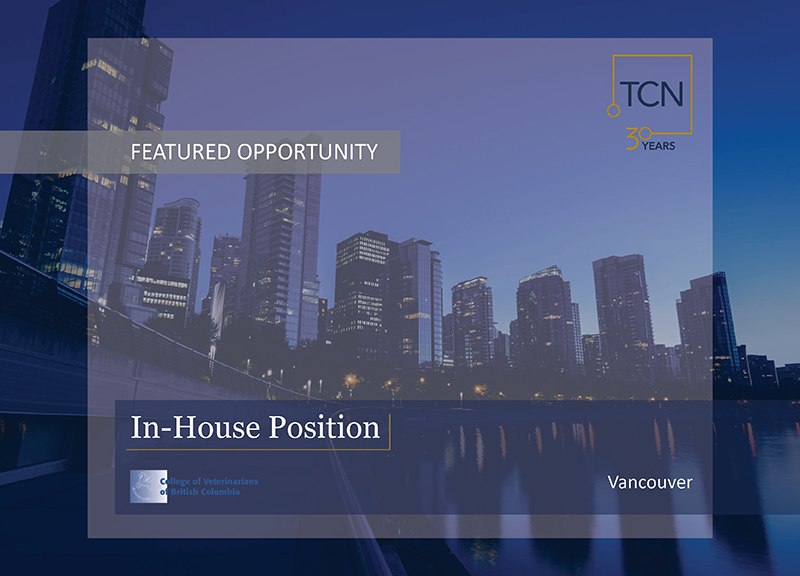 **This opportunity is now closed. Please visit our job board to view our current opportunities.**
The College of Veterinarians of British Columbia (CVBC) is the statutory body created to serve the interests of the public and animals through the regulation and advancement of the veterinary profession in BC. The CVBC's mandate is to create, promote and enforce a high standard of qualification, conduct, and competence by practitioners of veterinary medicine. To do this, the CVBC must set and enforce standards of practice and conduct that apply to all veterinarians in BC.
Job Description – Staff Lawyer Job in Richmond
The CVBC has an immediate opening for a Staff Lawyer to join its team in Richmond, BC. Reporting to the Registrar and CEO, the Staff Lawyer will provide legal support to the CVBC to ensure a competent and ethical profession.
Key Accountabilities and Responsibilities- Staff Lawyer
Provide legal and governance advice to CVBC on a range of matters.
Provide legal support to the Complaints and Discipline processes.
Conduct investigative reviews of complaints and legal research in advance of discipline hearings.
Interpret and draft CVBC bylaws and policies.
Education and Professional Skills/Knowledge
LL.B. or J.D. degree (or equivalent).
Good standing with a Canadian Law Society.
Over 5 years of administrative law or litigation experience.
Excellent time management, organizational, teamwork, and communication skills.
Strong affinity for problem-solving.
Ability to deal with people in a diplomatic, fair, and effective manner.
Prior experience with a professional regulatory organization is preferred.
For more information or to apply for this position, contact:
Chaaya R. Jugdeb, Recruitment Associate
403.444.1767
Visit our job board to view all of our current opportunities.