The Importance of Softer Skills to Land an In-House Legal Job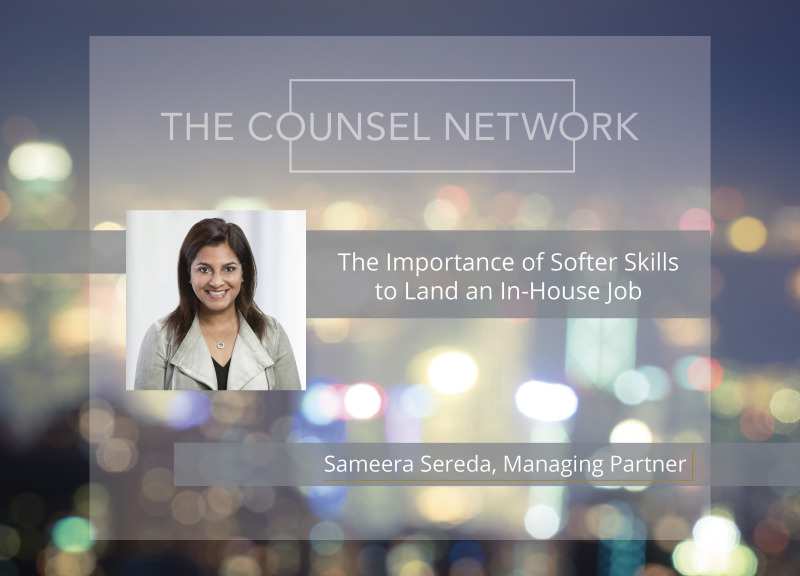 As legal recruiters who specialize in placement of in-house counsel, The Counsel Network participates in countless candidate interviews each year.  Candidate requirements such as technical competency and relative industry experience might get the candidate past the first round of elimination to interview directly with the employer.  However, corporate employers seek much more when hiring legal talent to their teams.
Reflective of the unique nature of the business and the culture of the employer, hiring managers look for the less tangible skill set or at least a demonstrated ability to acquire and develop these skills. The more sophisticated and seasoned professional abilities such as teamwork, leadership, and management get high consideration.  In-house lawyers are often members of multidisciplinary teams, and may find themselves working alongside colleagues involved in project management, training, and strategic planning.
Another characteristic that scores highly with hiring decision-makers is creative problem-solving abilities and the professional confidence to "own" a decision. This largely reflects the shift in practice style from private practice to in-house.  In private practice, the lawyer is trained to advise on the myriad of risks, but ultimately the client makes the decision with the legal team then following with implementation of the client's direction.  Whereas in-house lawyers may be expected to take an active part in, and share responsibility for making and implementing decisions that fit within the company's business goals and objectives.
Because of the diverse range of people and professions that in-house lawyers engage with inside and outside the company, good interpersonal skills are a must.  Sometimes there is an inherent tension between an in-house counsel's role in minimizing legal risk and the business function's need to generate revenue. To be effective, in-house counsel must be viewed as business-minded but also a sensitive, responsive and valued team member, not just a legal technician.
Sameera Sereda is the Managing Partner and Chair, In-House Counsel Division at The Counsel Network, a Canadian legal recruitment firm specializing in legal talent management strategies covering all levels of lawyers and practices for both corporate legal departments and law firms.  To discuss in-house legal departments Sameera can be reached at ssereda@thecounselnetwork.com or 403.444.1763. 
Join our network to receive informational news for the legal sector and insight to  in-house legal jobs as they are posted .
Follow us @Counsel_Network