Strategies for Effective Virtual Networking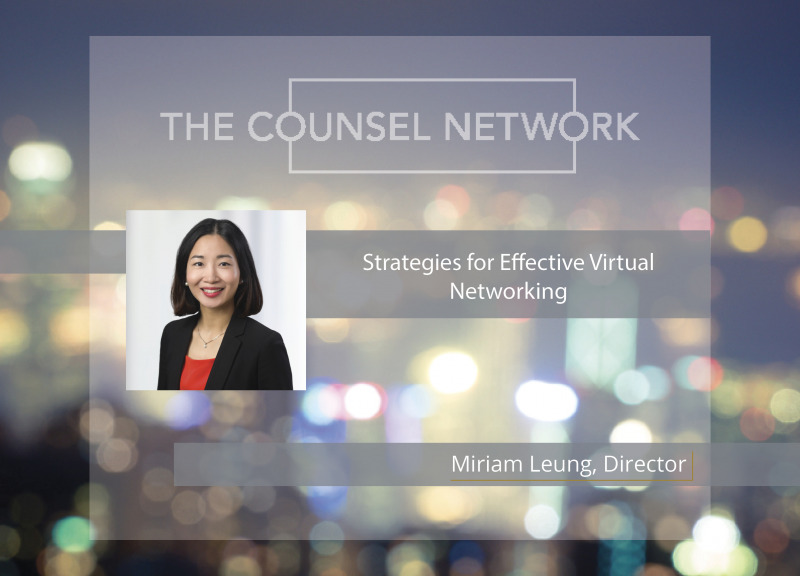 We recognize we're in a difficult market; however, while the rules around conducting business may have changed, the business itself has not. Last year, I was a co-presenter for the CBA's webinar on e-Schmoozing: Networking in a Socially Distanced World, which covered how to expand your networking and business development skills online. In this blog, I will provide some key tips that can help you transition your networking efforts to the virtual realm.
Networking will play different roles throughout your legal career and it's important to tailor your approach to your goals. For example, networking can help you gain relevant knowledge and insight in a practice area and/or expand your business development efforts (usually it's a combination of both). Our circumstances highlight the need to take a more targeted approach. Cocktail parties and in-person networking events are great, but don't work if they're not used meaningfully. The online space is no different – you need to take further steps to generate ongoing, meaningful conversations with people.
How do I effectively network virtually?
As many of us return to lockdown, we need to stay connected online. Some effective strategies for virtual networking include:
Leveraging online communication platforms
Putting yourself online is key. Some suggestions include:
1. Actively participating in LinkedIn activities
Share and comment on articles – people truly appreciate when you share what they've written. Sharing also provides an opening to start a conversation. In addition, there is value in sharing your own insights and writing about your own unique experiences, which others can relate to.
Join LinkedIn groups relevant to your practice, industry, or business/professional interests such as leadership or diversity & inclusion.
2. Attending webinars
Many of us are doing this right now. After attending a webinar, make the effort to connect with the speaker and/or participants. I'm not saying you should ask for 50 emails but rather, focus on giving authentic input and feedback. Be selective over who you'd like to connect with.
Connect with a target audience
Networking is a two-way process where you (1) connect with a target audience and (2) make it personal. Successful networking is about building relationships – it's about giving, not just receiving. Nobody should start a networking effort with 'I need a job'. Identify what you have to offer, and connect in an intentional and meaningful manner.
1. Connect with a target audience
Use a targeted approach to connect with the right group. I often suggest arranging a video call. You will create more of an impression with your voice and nonverbal cues (it's suggested that approximately 80% of communication happens through tone of voice and body language).
2. Make it personal
Share your professional (and personal, if appropriate) views, perhaps challenges you've faced and how you've overcome them. I often tell people to drop the usual greetings, especially during the pandemic where no one is 'fine'. It's okay to share your struggles and how you've overcome them – people can relate to that.
3. Stay in touch and connected
Building relationships takes time, both online and in-person. Be authentic and remember that relationships can't be forced. Over time, some relationships will be deeper and more developed than others, and that's okay.
Why network right now?
You should always be networking, Covid or not. Focus is key – figure out what you need from networking right now and be open to the fact your goals will change over time. The pandemic has afforded us the time to pause and reassess our goals, as well as ensure we're aligned with your professional plans.
Some lawyers, particularly junior associates, are often intimidated by undertaking networking, preferring the practice of law over the business of law. Network systematically (even if it's just a small part of your day) and make it a habit – networking will become more natural over time and practice. Remember to be patient and realize that even small efforts can count.
For further information on networking, please see our blogs How do I network right now? and The Power of Relationship Networking.
Miriam Leung, Director
mleung@thecounselnetwork.com
647.317.1610
Connect with me on LinkedIn