The Role Effective Communication Plays to Retaining Top Legal Talent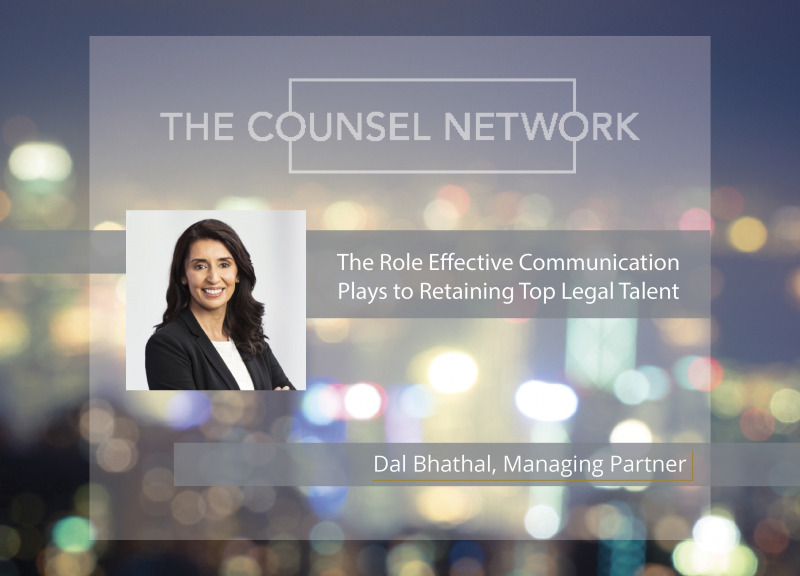 More than likely, what first comes to mind when people hear about The Counsel Network is that we are a recruiting firm specialized in recruiting legal talent.  While this is accurate, we are also talent management consultants engaged by a range of legal employers to provide advice and strategies to develop and retain top legal talent.
From our legal recruiting experience interviewing and positioning thousands of lawyers across the country we have heard in great detail about their career aspirations and their preferred working environments.  We've also listened intently to understand their individual motivators, decision making process, deal breakers and ultimately their rationale to conclude their working relationship with the current legal employer.
While this preamble might strike as somewhat self-serving, its intention is to demonstrate that from our in-depth background and experience recruiting in the legal sector, we've listened to better understand the narrative behind successful retention of top legal talent.  Especially when lawyer loyalty is diminishing and their ability to make a move is increasingly fluid.
In our experience as legal recruiters, poor communication is the issue most frequently cited by exiting Associates as the reason behind their departure.  As the maxim goes, communication is a two-way street. Legal employers must ensure that not only are they consistently informing Associates in a clear and straightforward manner, but they also actively listen to their concerns.
This can be further complicated when Associates are dispersed in several office locations across the country or even across borders.  Pending the communication style and ability of the local Managing Partner, Associates might have differing versions of information in relation to their colleagues situated elsewhere.  In todays' world of instant news and 24/7 live and online, Associates will expect to learn and understand the same news and information at the same time – and in a timely fashion.
Listening is a critical component to all effective communication.  Highly successful firms make it a priority to learn their Associates' concerns so they can provide targeted information and advice in response, while also cultivating a working environment in which Associates feels appreciated.
Effective listening on the part of firm leadership also requires some form of action or follow up to re-enforce the fact that concerns of the Associates were heard.   How the organization communicates resulting changes or adoption of the new ideas raised can further build loyalty and improve retention.
An alarming number of exiting Associates unhappily recount their struggles to understand the work expectations, billing structure, compensation structure, reward program, mentorship program, governance model, culture, values, and goals of their former employer. Taking the opportunity to clearly outline and reinforce these fundamental concepts on an ongoing basis will alleviate potential frustrations and effectively teach Associates how to best develop their future careers.
Dal Bhathal is a Managing Partner at The Counsel Network, a Canadian legal recruitment firm specializing in legal talent management strategies covering all levels of lawyers and practices for both corporate legal departments and law firms. To discuss your retention strategies, contact Dal at dal@thecounselnetwork.com or 416.364.6654/604.643.1708. 
Join our network to receive helpful news and information regarding the legal profession.
Follow us @Counsel_Network