3 Key Areas to Setting Lateral Hire Compensation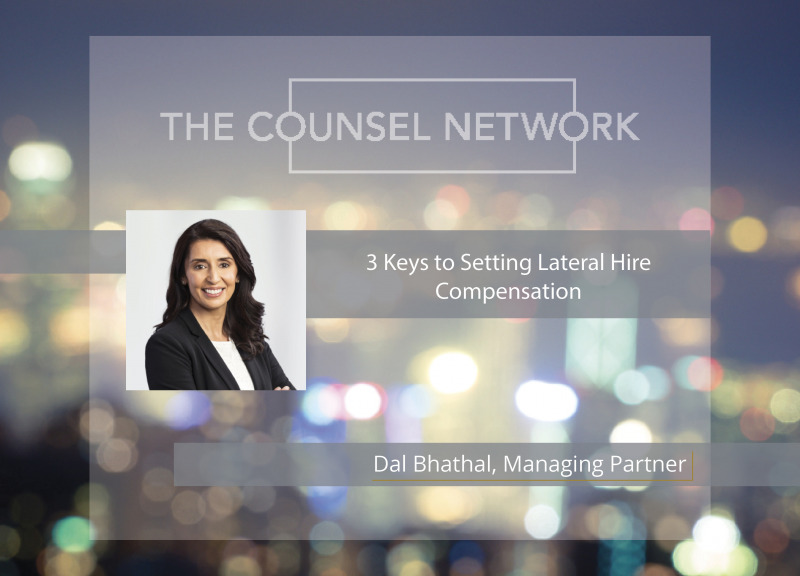 Reward and recognition that drive optimal lawyer performance behaviours is an important element to good management  The compensation model of any firm heavily influences how the lawyers work, what they prioritize and how they approach their practice.
Lawyers are smart and will quickly ascertain how to adjust their focus and performance to optimize their compensation within the structure. So, for firm leaders, determining how best to align performance with compensation is critical to the firm's success.
Base Salary
The most reliable component to a lawyer's compensation package is the base salary, or draw. When considering an offer, the less a lawyer feels like they have control over their practice and/or clients – the more likely the amount of the base component will tend to be highly valued in their assessment to accepting the offer.
As legal recruitment specialists, we traditionally see the base salary become the subject of greater focus the less confident the partner is in the profitability of their practice.  Accordingly, base salary needs articulated by the candidate are often used as a tool by hiring firms as a secondary means to assess their confidence level in practice profitability.  The higher the demand for certainty, the less confident the market will believe you are in the strength of your practice – something to consider when negotiating your next compensation package.
Incentives:  Short Term
The most common incentive for lateral partners is a percentage bonus model, paid on billings at various thresholds.  The higher the billing, the higher the percentage.  High percentage payouts tend to encourage partners to increase personal productivity as they collect an increasing percentage of their billings when graduating beyond various thresholds.
An unintended consequence can become a lack of sharing work with others, as the lawyer is more motivated to hang on or hoard the work, particularly when compared to a more modest origination credit they would receive through the sharing of work with others.
Formulaic models tend to work best when a firm is seeking to maximize personal productivity and cross-practice integration is less critical to the success of the firm.
Another common bonus structure is a discretionary model, which can incorporate a myriad of factors which a firm has strategically chosen to prioritize.  Such bonuses motivate a wider range of behaviours and typically work best when seeking to encourage a more holistic approach to firm contributions.
An unintended consequence here can lead to a gaming of the system – where lawyers conclude they are better off taking management or administrative roles, as opposed to improving personal productivity.
Discretionary models can also be harder to articulate to prospective lateral hires, who may be apprehensive in letting a sizable component of their compensation be determined by factors they deem subjective and outside their control.
Incentives:  Long Term
Traditionally, law firms have not offered meaningful long term incentive models given the nature of professional services businesses and their limited ability to create a sustaining, profitable business model outside the continued contributions of the ownership group (the partners).
A select number of firms offer pensions as a means to incentivize both long-term alignment and commitment to the firm – though in recent years questions regarding the long-term viability of such models have arisen given both the sustaining costs and succession issues facing the legal profession.
As legal recruitment specialists, we suggest that so long as these models remain viable, they do have a meaningful impact on retention of senior talent, particularly as they get within 10 years of their eligibility to claim the benefit.
Ultimately, it is important for firm leaders to understand what it needs the team to prioritize and build a compensation model that reflects those goals.  Should the firm undertake a significant strategic planning initiative and fail to revisit the firm's compensation model as part of the exercise, any disconnect from failing to align the compensation model with new strategic objectives can lead to attrition or failure to attract the appropriate talent to drive firm goals.
Dal Bhathal is a Managing Partner at The Counsel Network, a Canadian legal recruitment firm specializing in legal talent management strategies covering all levels of lawyers and practices for both corporate legal departments and law firms. To discuss effective compensation strategies, contact Dal at dal@thecounselnetwork.com or 416.364.6654/604.643.1708. 
Join our network to receive helpful news and information from the legal profession.
Follow us @Counsel_Network