Legal Counsel Job in Canada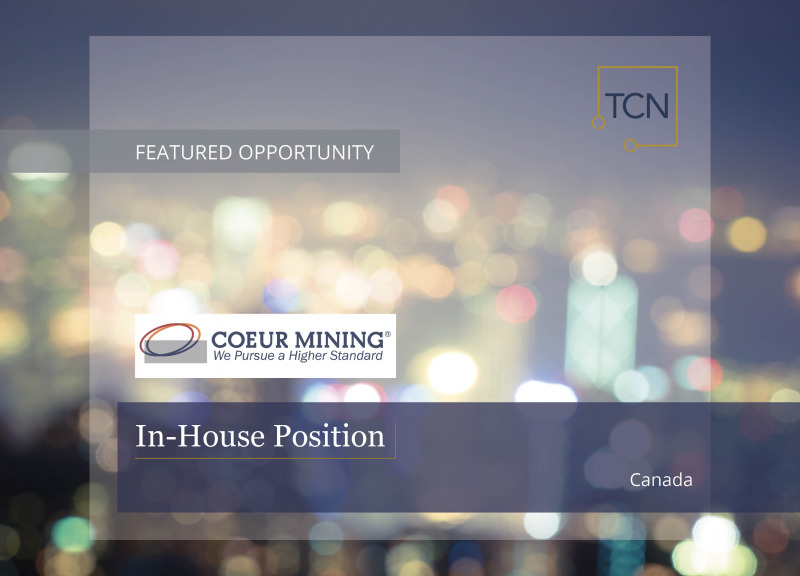 **This opportunity has been filled and is now closed. Please visit our job board to view our current opportunities.**
Coeur Mining, Inc. (NYSE: CDE) is a well-diversified growing precious metals producer with assets in the United States, Canada, and Mexico. Coeur's wholly-owned operations include the Palmarejo silver-gold complex in Mexico, the Rochester silver-gold mine in Nevada, the Kensington gold mine in Alaska, the Wharf gold mine in South Dakota and the Silvertip silver-zinc-lead mine development project in British Columbia. In addition, the Company has interests in several precious metals exploration projects throughout North America. Coeur's headquarters are located in Chicago, IL.
Coeur's purpose statement is: We Pursue a Higher Standard. Everything the company does is fueled by this statement; it is the foundation and inspiration for its actions every day. Coeur protects its people, places and planet, develops quality resources, growth and plans, and delivers impactful results through teamwork.
This is an exceptional opportunity for an ambitious and commercially-minded lawyer to join a leading primary gold and silver producer and play a key role in its operations and projects across Canada and the US. Coeur offers a competitive compensation package, opportunities for career growth, and an entrepreneurial platform.
Job Description – Legal Counsel
Due to ongoing growth, Coeur seeks a Legal Counsel to join its team. Reporting to the VP, Deputy General Counsel and Chief Compliance Officer, the Legal Counsel will have a leading role in legal matters pertaining to operations and projects within the United States and Canada. The role location is flexible and may be remote based with occasional travel.
Key Accountabilities and Responsibilities
Review, negotiate, draft, and advise on a variety of commercial and finance contracts.
Support legal needs for assets in Canada, including Silvertip.
Provide legal advice and assistance to functional groups including, Operations, Supply Chain, Technical Services, Finance, IT, HR and Investor Relations with a focus on BC legal and regulatory requirements.
Assist with corporate governance matters including the review, drafting, and administration of corporate and local policies, and advise on other ordinary course regulatory matters.
Manage non-material local litigation and assist the Corporate legal department with management of material litigation.
Provide necessary legal support for Corporate Development / Exploration initiatives including acquisitions/divestitures, option and joint venture agreements, and junior equity investments.
Provide legal support for financing initiatives including equity/debt issuances and borrowing facilities.
Oversee local outside legal counsel as necessary.
Provide support to Corporate legal team as necessary.
Provide support and advice on strategic initiatives.
Education and Professional Skills/Knowledge
LL.B. or J.D. degree (or equivalent).
Good standing with a Canadian Law Society.
5+ years' experience, with a combination of both private law firm and in-house environments preferred, with an additional preference for public company in-house experience.
Solid understanding and background in legal concepts applicable to mining or similar extractive industries (including human resources matters) would be beneficial.
Significant experience in securities regulation strongly preferred.
Strong abilities in contract negotiation and drafting, with emphasis on risk management.
Strong degree of common sense and practical, business-oriented application of legal principles.
Excellent inter-personal abilities and responsiveness.
This is an exclusive search.
The Counsel Network is committed to building a diverse legal community through our inclusive business and recruitment practices. We value diversity of experience, expertise, and background, and strive to eliminate barriers historically encountered by marginalized groups. We recognize that an equitable, diverse, and inclusive workforce benefits and enriches both the legal profession and the greater community.
For more information or to apply for this position, contact:
647.317.1610
OR
416.364.6654 / 604.643.1708
Visit our job board to view all of our current opportunities.