Legal Counsel, Privacy Specialist Lawyer Job in Vancouver, Canada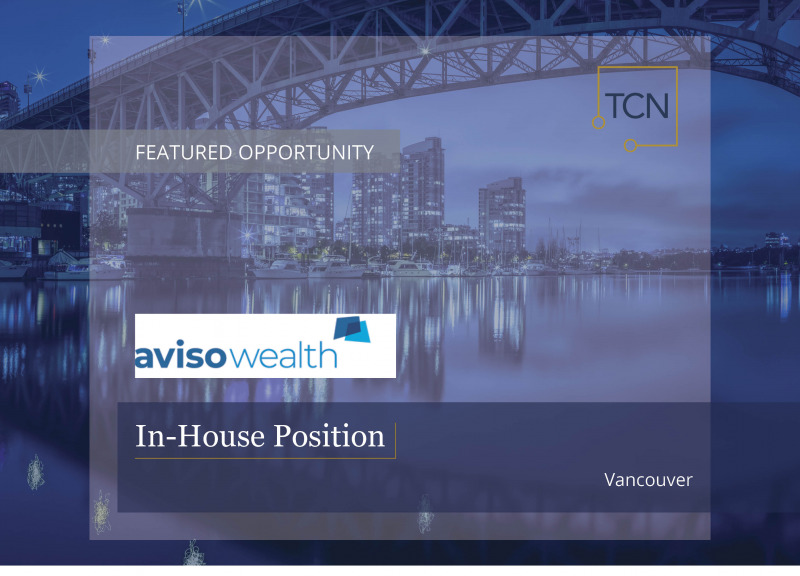 **This opportunity has been filled and is now closed. Please visit our job board to view our current opportunities.**
Aviso Wealth is one of Canada's largest independent wealth management firms with more than $95 billion in assets under management and administration. Aviso Wealth provides credit unions and institutional and retail wealth organizations with comprehensive, integrated wealth management services and solutions. Aviso Wealth is owned by the Credit Union Centrals, The Co-operators/CUMIS and Desjardins.
Aviso Wealth's award-winning online brokerage, Qtrade Investor, and digital advice platform, VirtualWealth, give Canadians flexible choices for building their wealth. Aviso Wealth asset manager, NEI Investments, is a Canadian leader in Responsible Investment funds and portfolios, which are available through a national network of advisors. The Company has major operations in Vancouver and Toronto, along with regional offices across Canada.
Aviso Wealth is dedicated to improving the financial well-being of Canadians. As a leading wealth management organization, Aviso Wealth is committed to service, partnership, and innovation. Offering a competitive compensation package, this is an exciting new role for a business-minded and talented lawyer looking to lead in the privacy space within an entrepreneurial, growing organization providing interesting and challenging work, a dynamic culture, and a strong commitment to the success and career growth of its people.
Job Description – Legal Counsel, Privacy Specialist Lawyer
Due to ongoing growth, Aviso Wealth is seeking to add a Legal Counsel, Privacy Specialist to its team in Vancouver. Reporting to Senior Legal Counsel, the Privacy Specialist is responsible for developing Aviso's data privacy framework and implementing privacy strategies to support to Aviso's Legal Department and other members of the Company as required. The Legal Counsel, Privacy Specialist will implement industry best practices and solutions to reduce risk and ensure the protection of customer data. The Legal Counsel, Privacy Specialist will leverage their knowledge of privacy law to assist with privacy inquiries from all departments of the organization and will act as an initial point of contact for the management of all privacy breaches from investigation to the involvement of necessary regulatory bodies.
Success in this position requires consideration of both internal and external stakeholders, and demonstrated intent of understanding and putting the clients' needs first. Commitment to your professional goals and the ability to get the job done, as well as the talent to collaborate and build trust and relationships (both internally and externally) are essential.
Key Accountabilities and Responsibilities
· Ensure Aviso complies with the applicable privacy legislation and amendments thereto –PIPEDA, CPPA, PIPA, CASL etc.
· Develop and implement a privacy management framework and create tools to manage compliance.
· Conduct investigations and recording/reporting of privacy breaches.
· Be the central point of contact for all privacy related inquiries at Aviso.
· Develop and maintain policies, processes, and training as required.
· Conduct systematic audits and provide recommendations to improve privacy practices or correct areas of non-compliance.
· Develop and present reports to executives on privacy incidents and statistics.
· Work with regulatory bodies such as the Office of the Privacy Commissioner of Canada (and applicable provincial equivalents), and the Canadian Radio-television and Telecommunications Commission, as required.
· Monitor the industry landscape to identify trends and implement best practices.
Education and Professional Skills/Knowledge
· LL.B. or J.D. degree (or equivalent).
· Good standing with a Canadian Law Society.
· IAPP certification.
· Minimum of 3 years experience at a major law firm and/or in house.
· Business experiences an asset, particularly in the wealth management industry.
· Knowledge of securities law and practice, particularly as it relates to wealth management.
· Completion of the Canadian Securities Course and/or the Partners, Directors & Senior Officers course considered an asset.
· Ability to work independently and in a team setting.
· Ability to coordinate work that involve multiple departments.
· Strong research skills.
· Fluent communication skills in English are required and bilingual skills in French are an asset.
This is an exclusive search.
The Counsel Network is committed to building a diverse legal community through our inclusive business and recruitment practices. We value diversity of experience, expertise, and background, and strive to eliminate barriers historically encountered by marginalized groups. We recognize that an equitable, diverse, and inclusive workforce benefits and enriches both the legal profession and the greater community.
For more information or to apply for this position, contact:
Meaghan Loughry, Recruitment Associate 
mloughry@thecounselnetwork.com
647.417.4720
OR
416.364.6654 / 604.643.1708
Visit our job board to view all of our current opportunities.