Why artificial intelligence can't replace human recruiters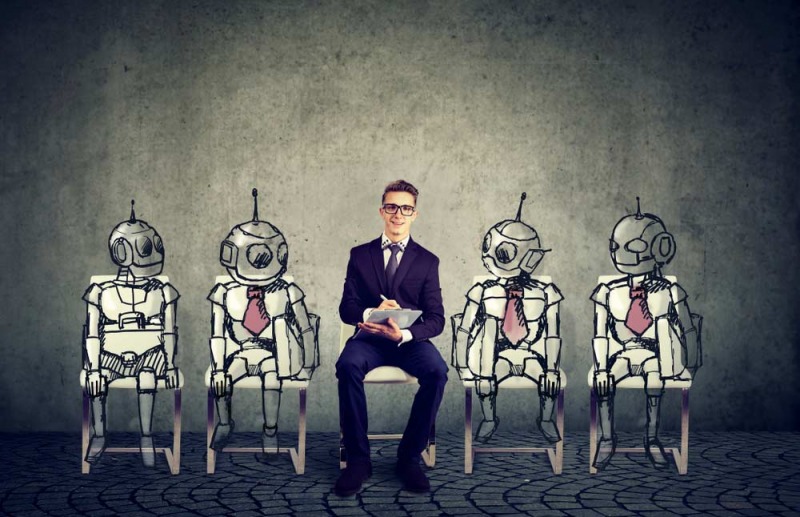 Recently, there's been a lot of buzz about Artificial Intelligence (AI) in the recruiting world.
As a legal recruitment consultant, I enjoy having more AI functionality at my fingertips. AI automates tedious administrative tasks and frees up my time to focus on the human side of hiring.
While I am thrilled to use AI tools, there are certain human skills that AI simply can't replace. Recruiters' human skills are key to the legal recruiting profession (and recruitment, generally) and deeply affect the candidate and client experiences throughout the process.
Here are five recruitment skills that AI cannot replace:
1. Building personal relationships
How legal recruiters make candidates and clients feel during a hiring process can leave a lasting impression. Recruiters humanize the recruitment process by building strong rapport and positive relationships with all parties involved. We are connecting with people for whom work is personal and the workplace is the second home. Personal interactions are key drivers in developing relationships.
People engage people, not chatbots. Candidates need to connect with other people to feel the pulse of an organization. Recruiters increase candidate-client engagement, from screening and interview preparation, to assisting in the exit process and onboarding.
2. Assessing a candidate's potential beyond the resume
A great recruiter can holistically assess a candidate's true potential, particularly one who has minimum experience, career gaps or a willingness to switch careers. Determining whether a candidate will be a culture fit or, more importantly, a culture add is a skill that requires human interaction. Recruiters are typically people-centric personalities who serve as catalysts in building efficient teams.
Recruiters assess whether a candidate's passion, attitude, and soft skills will sync with the team; they also gauge whether a candidate's personality fits with company culture. AI cannot experience a culture or personality.
3. Providing strategic counsel
A good recruiter is alive to their client's corporate culture and team personalities and, as a result, understands the type of candidate that would be the best addition to their client's team. The recruiter acts as a business partner throughout the recruitment process by providing guidance to hiring managers, setting realistic expectations, and facilitating job offer negotiations. The interaction between a recruiter, hiring managers, and candidates ensures the right hire is made.
Human recruiters have empathy with both candidates and clients. AI cannot provide fulsome opinions or expertise on the potential fit of a candidate. Recruiters are human influencers, not simply box ticks.
4. Convincing candidates to accept offers
Recruiters demonstrate empathy and build trust with their candidates. Accepting a job offer is a huge decision for a candidate and the offer process often requires a personal touch. Recruiters spend time understanding candidates' true motivators (beyond salary) and strive to become trusted advisors. AI cannot feel empathy and a chatbox cannot become a trusted advisor to a candidate.
5. Improving the candidate and client experience
Great recruiters capitalize on the human elements of recruiting. Candidates and clients want more personal interaction with recruiters – they are looking for guidance, updates, and closure. The human component of recruiting can become neglected when there is too much focus on AI.
Takeaways
Recruitment is the ultimate "human industry".
Recruiting will always be a fundamentally human activity. Great recruiters build trust, loyalty and a sense of comradery, which cannot be replicated by machines. AI continues to make significant advances; however, it will never replace human recruiters. Rather, it can serve to enhance and improve our work, and enables us to focus on the human side of hiring.
Working with a legal recruitment firm like The Counsel Network guarantees a personal touch during your recruitment process. We are trusted advisors and provide clients and candidates with compelling thought leadership that empowers them to best match their objectives with their needs. Contact us to discuss your legal career or hiring needs.
– Chaaya R. Jugdeb, Recruitment Associate
cjugdeb@thecounselnetwork.com