Stepping into the 'new normal': International legal recruitment perspectives and trends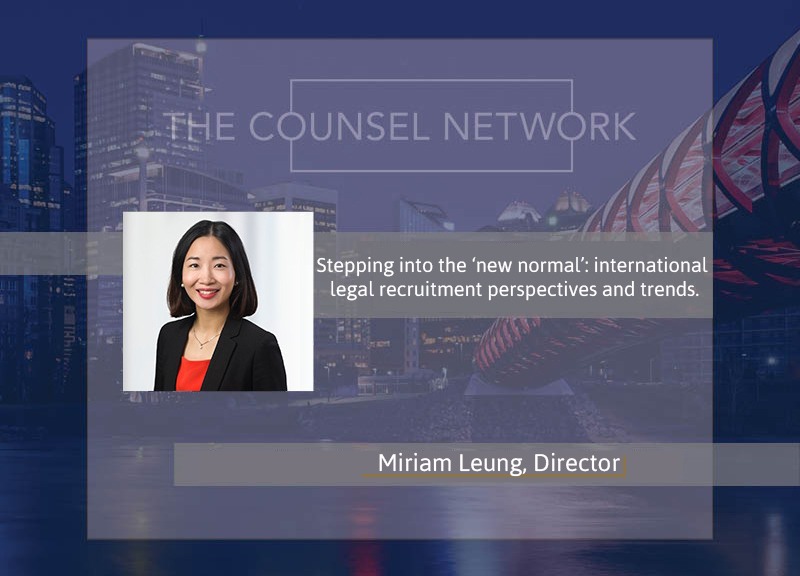 In these uncertain times, many lawyers are wondering how firms abroad are responding to the pandemic. In Looking ahead: what Canadian law firms can discover from their counterparts, I outlined some of the practices adopted by international law firms to continue operations over the course of the outbreak.
Most global law firms currently have work-from-home mandates in place; however, some markets, including Hong Kong and China, have begun rolling out phases for businesses to resume normal operations. As international markets start reopening, we've had many discussions with clients about anticipated needs, repositioning, and strategic hiring plans. In this article, I will detail some of the notable recruitment trends amongst international law firms as we enter the 'new normal'.
Hiring trends
In response to the pandemic, some major international law firms, including Magic Circle law firms Slaughter & May and Linklaters, have put a hard pause on associate recruitment. Other firms are cautiously exploring potential needs in targeted practice areas, but are generally highly selective in their recruitment efforts. Following cost-saving initiatives, we will likely see firms implement additional processes for new hire approval.
There is a general tendency to bring in more senior lawyers, especially those with a book of business. It's unclear whether firms will continue their summer student programs – some are proceeding with hiring, while others, including major US firm Paul Weiss, have decided to wait and see.
Demand for contract lawyers for corporate legal departments has increased and will continue to rise as businesses seek guidance on Covid-19's impact on operations – particularly labour & employment, restructuring & insolvency, amongst others. We may also see a rise in demand for contract lawyers in private practice in the coming period.
Assessing potential
As organizations resume normal operations, including recruitment, law firms are placing more emphasis on 'personality hires', which is traditionally associated with in-house recruitment. Adaptability (AQ)/growth mindset, proactiveness, self-motivation, and learning abilities are quickly becoming key attributes when assessing candidate potential. Law firms are also seeking ways to encourage entrepreneurialism and creativity amongst their lawyers.
Implementing job retention strategies
No doubt all businesses and industries are being mindful of cost saving initiatives, including pay cuts and layoffs. Major global firms are no exception and have adopted similar measures to alleviate the financial impact of the pandemic.
Some of the latest announcements include Mayer Brown reducing salaries by 15% for all non-equity partners, Stephenson Harwood's withholding the latest quarterly distribution for equity partners, and Reynolds Porter Chamberlain cutting partner drawings by up to 20%. Other measures include delaying partner promotions and furloughing a percentage of staff, including those working in slower practice areas.
Some firms, such as UK firm Fieldfisher, have asked their lawyers and staff to use up a certain percentage of leave before the second half of this year. As a result, law firms expect an increase in holiday requests as they reopen, especially as we head into the summer.
Relying on technology
In addition to large scale digitization of workplaces, law firms have relied heavily on technology to hire and onboard lawyers. In-person interviews have been transitioned to phone calls and videoconferencing, and new hires are being onboarded remotely.
For some global firms, first round of trainee/student interviews are conducted virtually without an interviewer and recorded for later assessment by trainee committees; the candidate logs online and is provided a teleprompter (which shows the question) and a buzzer, followed by a limited amount of time to record notes and provide an answer. Additional rounds of interviews, including the final interview, are conducted face-to-face via videoconferencing platforms.
The onboarding process has also been moved entirely online. Ultimately, successful lateral integration requires new hires to be consistently engaged. In light of social distancing, law firms are encouraging regular video chats between new hires and their team to build camaraderie and create networking opportunities.
The Covid-19 pandemic has forever changed recruitment and hiring in the legal profession. While we don't know when or how, the pandemic will eventually pass. When it does, we believe the 'new normal' will be more dynamic, flexible and nimble as law firms find new ways to find, evaluate, and retain top talent.