10 Elements to Determine Market Value for In-House Lawyers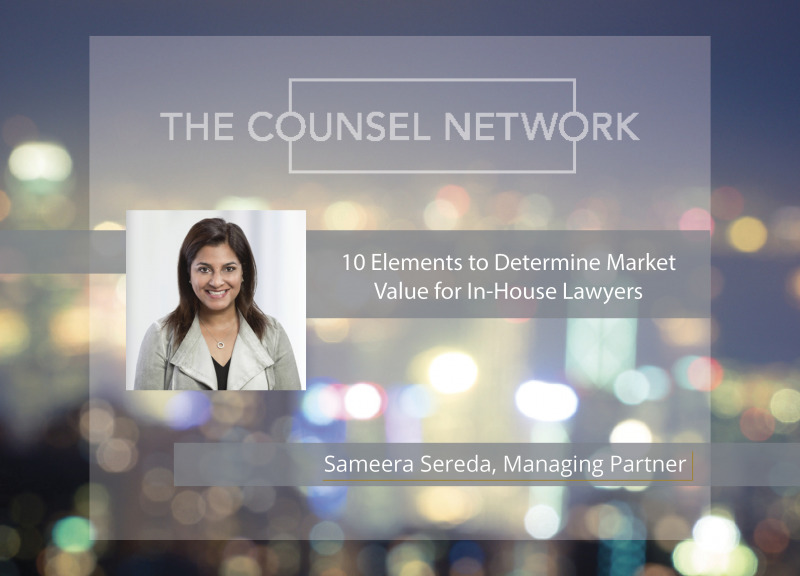 Advice from in-house legal recruitment specialists at The Counsel Network
The role of any lawyer employed within a busy corporate legal department isn't a simple one, nor is it suited for every lawyer.  In-house lawyers need to straddle both the legal and business perspectives of the company they work for.  Often it will be the unique focus of the business and its value proposition that will attract the lawyer to an in-house role.  But to increase overall lawyer satisfaction serving within a corporate legal department, it is equally important for lawyers to weigh the other benefits to going in-house, including the compensation.
In 'Five factors that impact compensation for in-house lawyers' , we leveraged our experience as in-house legal recruitment specialists to highlight five areas that we've noticed to have a general impact on how compensation for in-house lawyers is derived.  While these five factors should be taken into consideration when lawyers consider going in-house or when in-house lawyers assess the value of their current role, we recommend consideration of ten additional elements in the development of a personal compensation audit to determine market value.
The company's size, revenues, industry sector, and headquarters.
The size of the legal department (lawyers and support staff).
The reporting structure: where are you in the chain of command?
The corporate culture: pace, focus and lifestyle.
The nature of the work: day-to-day routine or deal-focused? Travel or stay-at- home?
The bonus factors: options, benefits, pension, holidays/flex days?
Your specialties (g., intellectual property expertise is hot and valuable)
Your individual aptitude. How much are you worth to the company?
Internal pay equity: compensation of comparable colleagues within the company but outside the legal department
The market: how similarly situated lawyers (as determined above) are compensated.
Investing the time to complete a personal compensation audit will arm lawyers with a better sense of their own value within the company. You'll be in a better position to calculate the base compensation you deserve and how that compares to lawyers within other corporations or organizations. But, should you still have questions or need a trusted sounding board – you can always give us a call in confidence.  We are happy to listen and share from our experience as in-house legal recruitment specialists.
At The Counsel Network, we constantly hear from lawyers of all levels, both in private practice and in-house, who want to better understand if they are being paid fairly.  As in-house legal recruitment specialists, not only do we work with in-house lawyers interested in making a move, we also work with business owners and general counsel in developing their annual compensation strategies and plans for their company because these leaders recognize the strategic importance compensation plays in retaining top legal talent as well as attracting new lawyers to join the department.
Sameera Sereda is the Managing Partner and Chair, In-House Counsel Division at The Counsel Network, a Canadian legal recruitment firm specializing in legal talent management strategies covering all levels of lawyers and practices for both corporate legal departments and law firms. Sameera can be reached at ssereda@thecounselnetwork.com or 403.444.1763. 
Download your complimentary edition of the annual In-house Counsel Compensation Survey and Report.
Join our network to receive job openings as they are posted as well as thought provoking information helpful to recruiting and retaining top talent.
Follow us @Counsel_Network