Press Release – 2018 In-House Counsel Compensation & Career Survey Results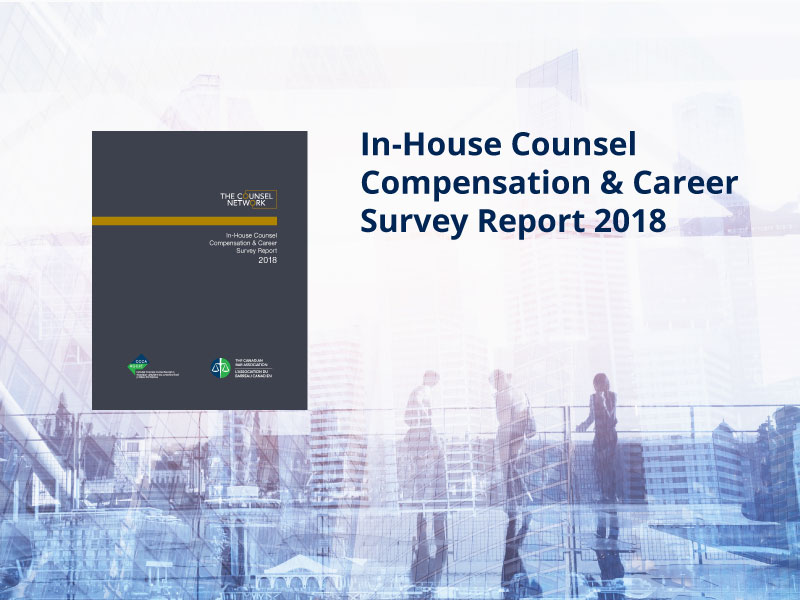 Toronto, ON – According to the survey report released today by The Counsel Network and The Canadian Corporate Counsel Association (CCCA), female in-house counsel continue to earn less than their male counterparts, ethnic diversity for the legal profession remains challenging, more legal departments are recruiting junior in-house lawyers and in-house counsel remain optimistic regarding their future.
Gender wage gap continues
The results show that, even when compared to men in the same roles in the profession, women continue to be paid less. While the gap has reduced from 15% in 2016 to 11% this year, this still represents a significant gap in pay between men and women in the legal profession. The most substantial gaps continue to be seen at higher wage levels.
"This year's survey provides some encouraging insights into the gender pay disparity", commented Dal Bhathal, Managing Partner for The Counsel Network. "However, there is still a long way to go before we can achieve equal pay for men and women."
Ethnic diversity remains a challenge
Although it remains a challenge, the results showed that 80% of respondents identified as Caucasian, 6% as Chinese, 5% as South Asian, and 4% as African-Canadian/African/Caribbean compared to 83%,4%,3% and 2%, respectively in 2016.
There was no change in respondents self-identifying as First Nations, however, there was a 1% increase in respondents identifying as Métis (from 1% to 2%).
The legal profession continues to identify the need to build diversity, and the survey results back up that need with these statistics," Bhathal commented. "The Counsel Network is proud to see that efforts are finally being made, although a lot of work remains in this area."
Shifting Demographics
The 2018 results show that 40% of this year's respondents had less than 10 years of experience compared to 30% in 2016.
A by-product of more respondents this year in a lower salary range has caused a slight drop in the national average base salary from $165,00 in 2016 to $163,00 in 2018.
"We have not seen a decrease in base salaries across the country," noted Bhathal "but a trend to recruit more junior lawyers to in-house positions is consistent with what we are seeing in the market currently."
Industry trends
Financial services and insurance continue to be the sector most represented by in-house counsel, followed by oil and gas, and Government.
The highest average base salaries are found in oil and gas ($196K), resources/mining/forestry ($193K), construction ($183K), pharmaceuticals/medical ($177K), retail/hospitality ($173K), real estate ($172K), and manufacturing/auto/aerospace ($165K) industries.
Pharmaceuticals/medical (up $26K), oil and gas (up $15K), and construction (up $11K) all saw the largest gains in annual base salaries, while resources/mining/forestry (down $14K), real estate (down $13K), and manufacturing/auto/aerospace (down $11K) saw the largest decline.
Future outlook is optimistic
Similar to 2016, the majority of in-house counsel reported an increase in the size of their legal departments. When it comes to optimism, the number of respondents who reported being "very optimistic" about the future of their organization's legal department remained consistent with 2016 levels.
"This is a marked difference between lawyers in private practice and in-house," says Bhathal. "Having been in the industry for 30 years, we at The Counsel Network have seen a decrease in optimism by lawyers in private practice and one of the reasons is an increased number of clients hiring more in-house lawyers and keeping the work in-house."
About the survey
The 2018 In-House Counsel Compensation & Career Survey was commissioned by The Counsel Network in partnership with The Canadian Corporate Counsel Association (CCCA). This is the fifth wave of this research. Previous studies were conducted in 2016, 2012, 2010 and 2009. The survey was conducted by Bramm Research between October 4 and November 15, 2017. The 904 respondents represent a good mix of in-house counsel from all major cities across Canada and include a variety of sectors and titles.
The survey report has become a go-to resource for in-house counsel and HR professionals seeking reliable compensation data for the Canadian in-house counsel market. 45% of this year's survey respondents named the survey as a key source of information for industry compensation. The survey provides key information on compensation, benefits, work hours, and job satisfaction for in-house counsel.
About The Counsel Network
The Counsel Network is the most respected, connected and powerful lawyer recruitment firm in Canada. We specialize in providing the Canadian legal market with comprehensive, long-term talent management solutions for law firms and in-house legal departments. Our robust knowledge of our clients and their strategic, business and financial goals allows us to provide advisory and talent management services, including retention, succession planning, compensation models, business development, and coaching, all of which complement our traditional recruitment services.
About the Canadian Corporate Counsel Association (CCCA)
The Canadian Corporate Counsel Association (CCCA) is the leader and voice for in-house counsel in Canada. Their members are lawyers working for public and private companies, non-profits, associations, government and regulatory boards, Crown corporations, municipalities, hospitals, post-secondary institutions and school boards. They also welcome associate members from law firms whose support and expertise enrich their educational programs and events. The Association represents over 5000 in-house counsel from across Canada.
Download a free copy of the full survey report.
Media Contact
Dal Bhathal, Managing Partner
The Counsel Network
dal@thecounselnetwork.com 
416.364.6654